We (Tirupati Group) are Delivering Innovation through innovative approach.
Tirupati group is a leading research-based organization dedicated to its clear VISION, "Tirupati aspires to serve humanity with innovative and affordable healthcare solutions".
Tirupati Innovation Center is accredited by DSIR (Department of Scientific and Industrial Research Technology, The Ministry of Science and Technology of Government of India) is situated at Nahan Road, Paonta Sahib.
Our well-regulated R&D infrastructure, highly skilled expertise and innovative approach have successfully developed various technologies, processes, and established product ranges to cater diverse therapeutic segments including hand-to-hand collaboration with leading organizations.
Tirupati Innovation Center is well-equipped start-of-the-art laboratory for dedicated FRD & ARD sections spread in more than 28,000 square feet. This dedicated infrastructure has sophisticated world-class facility delivers one-stop solution in multi-vertical segments, like.
Tirupati serves Customized Product Development Service (CPDS) and work as Contract Research Organisation (CRO)
Provides end-to-end formulation development services ranging from early development to clinical supplies of new product development for the Pharmaceutical, Nutraceutical, Ayurveda & Sports Nutrition industry.
Experience to develop formulations for your pre-clinical and clinical needs to support oral solid, oral powder oral liquid topical administration.
Formulation development effort revolves around developing the best formulation for your compound, focusing on the desired bioavailability and optimal stability of product.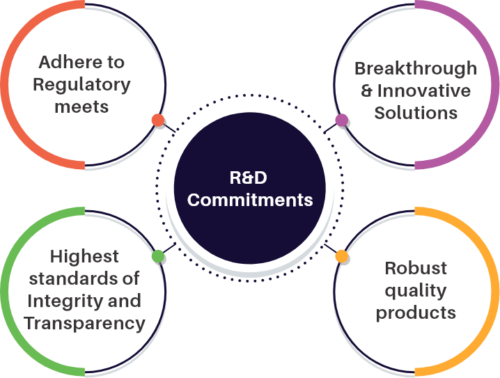 Formulation Development
Quality designed, Well equipped lab scale development facility to replicate & develop unique formulation with proper developmental designs.
Analytical Development
Advanced analytical instruments with dedicated team expertise in various techniques to perform method development & validation.
Project Management
Dedicated team to ensure time-bound delivery by tracking and communicating with internal as well as external stakeholders to ensure maximum productivity.
Intellectual Property
Skilled team specially working continuously to protect our innovative developments through patent for region specific focus.
Regulatory Assistance
Separate dedicated teams for different segments having excellent skills in dossiers submission and licensing approval across the regions.
Technology Transfer
Highly skilled team to conduct scaleup and validation activities to transfer technology from laboratory to plant.
Oral Solids
Tablets & Capsules

Oral Powder & Granules
Sachet, Zipper & Jar

Oral Liquids
Syrup, Suspention & drops

Topicals
Creams, Oitment, Lotion, Rollon & Gels

Additional Areas
Probiotics, Liquid Spray, Diskette, Bars, Gums, etc.

Physical Processings
Partical size uniformity through shifters
Powder Blending
Liquid Homogenization
Granulation (Wet & dry)
Drying (Fluidized Bed & Tray processing)
Layering & Coating
Mono layer and bi layered tablets
Film coating and functional coating
Aqueous coating
Non-aqueous coating
Fluidized bed coating
Powder layering
Sustain release
Capsules Technology
Conventional capsules
Pellets in capsule
Tablet in capsule
Capsule in capsule
liquid in capsule
Packaging Technology
Blisters
PET, HDPE, Glass Bottles
Sachets
Strips